Anatomy Of A Podcast: The State Of Radio BSOTS
Now Playing: Some cuts from Harleighblu and Atoms Family
Topic: my podcasts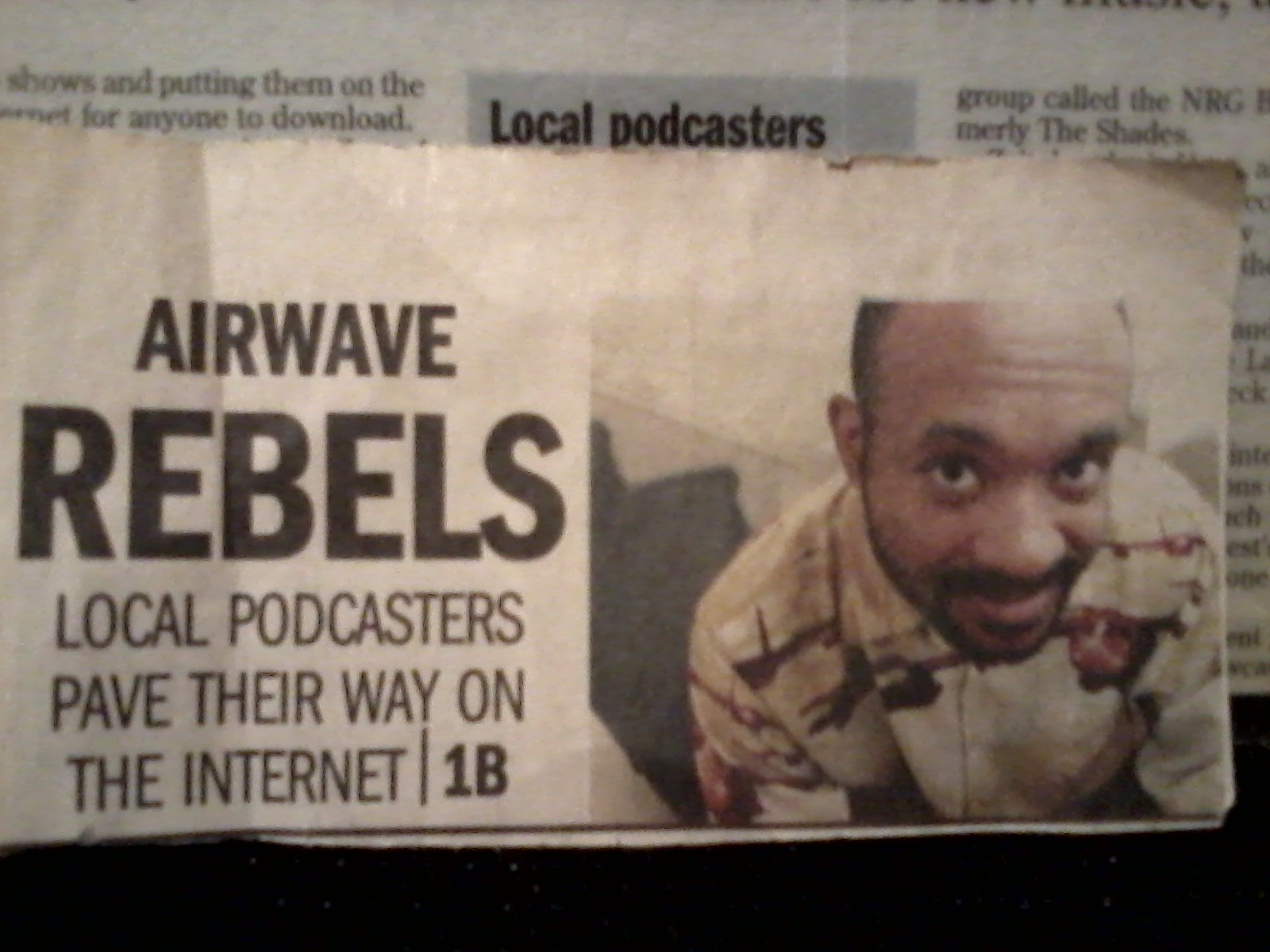 (This entry was originally posted to the Fading Into Obscurity blog on May 17, 2014.)

"You know, you should consider podcasting. I can totally see you doing that."

I was told that by a good friend and college radio station associate back in the Spring of 2005. Almost nine years later, I can't believe that I'm still doing this, particularly after thinking about all the things I went through within those first few years just to get the show started.

Radio BSOTS started in August of 2005 with an outdated Radio Shack three-channel mixer and microphone along with a pile of records and CDs. I would run the mixer into a boombox, record music sets and voiceovers onto a cassette, and then dump the audio into my computer. I did that for at least the first ten episodes. The computer that I was using at the time was a HP Pavilion PC running Windows Millennium Edition. Windows ME did not support iTunes, which meant that I had to give my podcast information to a friend to submit to iTunes. If that weren't enough, I was working from a dial-up connection at the time. Downloading songs for the show was a minimum of 20-30 minutes per song, depending upon the file size. As for uploading the completed show to a server, that was an overnight deal. I would start uploading before I went to sleep and pray that the connection didn't timeout before the upload was complete. This went on for about 70 episodes spread across the first three years of the podcast. How crazy is that?

Even those early continuous mixes were made in an unorthodox fashion, creating blends in Audacity with its Time Shift tool, changing tempos and fading tracks in and out long before I would get my hands on a DJ software controller that allowed me to mix digital files in a similar fashion to the vinyl that I was so used to. The Internet connection got upgraded to high speed in November of 2008, making show prep a considerably simpler exercise. Thanks to inroads provided by podcasting comrades Fave and EJ Flavors, I was able to create a special GRAMMY podcast episode to coincide with their awards ceremony in 2009 and came back the following year to serve as a World Music Community Blogger. Despite being very proud of those achievements, I often wonder if that was the show's plateau in terms of success and why gaining new listeners seems to come at a snail's pace, as if I'm destined to preach to the already converted.

For those of us who either listen to or produce podcasts, we must recognize that we are the one percent as far as consuming content in that form. There are still lots of people who have yet to listen to a podcast, regardless of the fact that those same people can download an app to play a game on their phone. Demystifying the practice of listening to a podcast is key if more people are going to come over to this on demand form of radio. Reportedly, word of mouth is still one of the best ways to find out about a podcast, but it's not enough. There's making sure that your show is listed on different platforms like Stitcher and Tune In and whatever else will be created next week. As of late, I tire of the hoops that you have to jump through just to (possibly) be noticed.

I do not have a mind for marketing or metrics; I do, however, have a mind for music. My gift is selection and curating. Perhaps I need to seriously consider teaming up with those who have the gift of marketing and metrics in order to find that larger fan base. I like to think that my show provides a safe haven for those who have given up on hip-hop and need to believe in the genre again. With hip-hop at the core, soul and funk as familial counterparts, and electronic music for an outer layer, my goal is to connect the dots between these diverse sounds and find some common ground. Hopefully I succeed more often than not at this practice. In my mind, Radio BSOTS is a show ready for the music geeks as well as those brand new to underground sounds to embrace on a grand scale: they simply don't know it yet. Right now, it's for the few and the proud that have managed to find it, but everyone doesn't seek out new music like that. Most people just let it come to them in the easiest way possible. For the masses, that tends to be the radio dial. I still believe that once listening to a podcast becomes as simple as tuning in a radio station, the new converts could increase exponentially. Perhaps that's wishful thinking, but I'm choosing to have a positive outlook regarding all of this, even in a world where East Village Radio finds it too costly to be a popular Internet radio station (check out this article for more on that story).

Shortly after 2014 started, I contemplated something about my podcast that I had never considered before: a kill date. December of 2015. It wouldn't leave me alone. Stranger still, I was surprisingly comfortable with the idea of podfading into the sunset once that time came. About two months later, something inside me said, why wait? I bumped up the date to the end of this year. For the last two months, I was dead set on calling it quits once 2014 came to a close. Prior to this blog post, only my wife and a good friend knew I was planning to do this. I thought about the effort and energy that I poured into this and how little I felt I got back from it. I thought about the exhaustion that comes from the day job and how it barely leaves me with the strength to work on the next episode. I thought about my responsibilities as a husband and a father and how they are so much more important than this little side hobby that I refuse to let go of. Even more than that, I was convinced that GOD wanted me to give this up for Him. I've been deep in thought about the possibility of this distracting me from my destiny, that my podcast was keeping me from my purpose. Real talk: I have no idea what that is. I simply know that I can't afford to operate outside of GOD's will and if the podcast is steering me in the wrong direction, then it's gotta go.

Recently, my wife got in my ear on some "are you sure you want to do this?" type stuff, which I totally didn't see coming. I just figured that she's had the most to lose over the years because of this, but she didn't want to see me give up doing something that I love. About a week afterwards, I get an out of the blue email from a DJ acquaintance that I knew from my college days. Turns out he's been listening to my show and loves it. Around the same time, I heard a new episode from Classick Material of the Cold Slither Podcast, who had been away from podcasting for almost a year. Getting a new show from him was like a Christmas miracle and he sounded so excited to be back. Beyond that, every time I hear an artist or song that makes me freak out, I always think that I can't be the only one that would have this reaction to this music. That's what has kept me going: the music, the constant hunt for something that I didn't know before, be it old or new.

So I'm not pulling up the tent stakes on Camp Lo-Fi just yet. I came really close, though. I've been having this discussion with myself about GOD, music, and purpose for quite some time now. In fact, it even showed up in podcast form during the Fall of 2011. It was show #116, entitled "The Priority Shift." For anyone who hasn't heard that show, it's me thinking out loud about the place that music has in my life and whether I'm honoring the creation more than I do the Creator, because I have had those moments. Some reflective and introspective music shows up in between to tie things together. From a conceptual standpoint, I think it's a pretty good show, even though I know that it might not be for everyone.

Considering that I'm still writing down potential playlists for future episodes in my little black book and listening to a podcast chock full of tips on how to make your podcast even better, it's safe to say that Radio BSOTS isn't going anywhere for the time being. If you've made it this far, GOD BLESS YOU. Thank you for being interested enough to want to know what's going on with "the poor man's podcast." Until the next episode, there's a lot of music out there, so you know what to do...

Keep diggin'.