considering the possibilities...
Now Playing: deep in thought about so many things...
Topic: grammys2010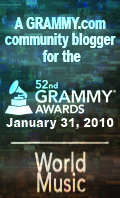 earlier this month, the good people at The Recording Academy asked us community bloggers to write up a wrap-up piece about our respective genres, so here's what i came up with for mine...
Considering The Possibilities...
It's less than a month until the 52nd Annual GRAMMY Awards and the World Music Field is wide open with possibilities. Walking away with a GRAMMY would be an honor for any of the nominees, and the more their respective albums are examined, the harder it becomes to pick a potential winner. For Best Contemporary World Music Album, each of the nominees are so impressive that you don't want to see anyone go home empty-handed. Be it the stirring songstress Oumou Sangare or husband and wife duo Amadou & Mariam, they have both done Mali proud. Cuba has presented a gift to the world in pianist Omar Sosa, whose latest album was largely inspired by the slave trade, particularly the Middle Passage. An arguable favorite could be Béla Fleck, certainly no stranger to the GRAMMY Awards, having won several in the past. However, don't rule out Femi Kuti, Nigeria's favorite son next to his father, Fela. Receiving his second GRAMMY nomination (the first being for his album Fight To Win), this could be the year for Femi to take it home.
In some ways, it's more difficult to single out a shoo-in for Best Traditional World Music Album. Between the hypnotic kora of Mamadou Diabate, the rhythmic aesthetics of Ten Drum Art Percussion Group, and the shared traditions of African and South American peoples expressed through John Santos Y El Folklórico Kindembo's work, it's easy for one's allegiances to be torn. The choice becomes even tougher once you consider Irish music lovingly handled by Liz Carroll & John Doyle, or the interplay between Indian and Iraqi musical themes from Rahim Alhaj and Amjad Ali Khan. While it might sound cliché, world music wins simply by having such artists being recognized. Even at a time when global tensions are on the rise, music always rises above it all to celebrate differences while recognizing similarities. It could be said that this year's World Music nominees represent that beautifully.