A Voyage Through The World Of Music...
Now Playing: the sounds of joy and anticipation...
Topic: grammys2010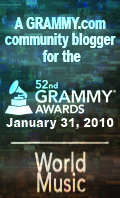 In this new year and new decade, world music is finding a new audience. Transglobal connections are being made through social media tools such as Twitter, Facebook, and MySpace as cultural differences are shared, harmonic similarities are discovered, and new sounds emerge from the exchange. An upcoming television series seems poised to tap into this vibrant energy, presenting the sights and sounds of international locales in an intimate and entertaining fashion.

Music Voyager follows producer and ethnomusicologist Jacob Edgar on a fantastic journey around the world, crossing paths with musicians from a dazzling array of genres and ethnicities. As the series producer, Farook Singh, pointed out, "Music doesn't exist without tapestry around it and the influences behind it." Singh is part of Tantra World Wide, a production company creating content for various media platforms. Unlike other production houses, Tantra is in the fortunate position of owning 100% of their properties. "We've never been told to go out and do something we have no interest in doing," adds Singh with an understated sense of pride.

If you're going to work on something, it may as well be a labor of love, and the passion of this project is more than evident. "This show took two years to develop," Singh explained. "You get to see the country through the eyes of an artist, but it's got that VH1 edge to it." To listen to him talk about what he's witnessed while filming this series is to hear someone continually falling in love with music. From India to Jamaica to the United States, another Indian pop star, another dancehall reggae phenomenon, another percussion collective is revealed. And Singh acknowledges the fact that such musical revelations occur in foreign lands as well when it comes to American music. "Wherever I go, they ask 'What about America?' And what they know of America is Jerry Springer, Britney Spears, but there's so much more."

To that end, Music Voyager has dedicated three episodes to a handful of this year's GRAMMY® nominees, including banjo player Béla Fleck, singer-songwriter India.Arie, accordion/fiddle player Cedric Watson, and producer Tricky Stewart. The phrase around The Recording Academy® campfire this year is "We're All Fans," and they have been intent on tearing down the walls between artist and fan. Through a steady stream of content including Flickr photos, Twitter and Facebook updates, and YouTube clips, it's clear that Music Voyager is right on board with the "We're All Fans" campaign.

"Our mantra is to put the power of the broadcast into the hands of the fans, which is long in coming," Singh concluded. "I'm sick of content being pushed to the market. Social media and the market were involved in the support of this show." Indeed, the questions and comments of fans have steered the production of the series, validating Tantra's ability to tell the artist's story while bringing the fans into the creative process. Be sure to check your PBS listings for the premiere of Music Voyager in February 2010.

Music Voyager sizzler
from
Farook Singh
on
Vimeo
.