it's a worldwide thing (and the nominees are...)
Now Playing: august darnell, sleep deprivation, and my own mind racing...
Topic: grammys2010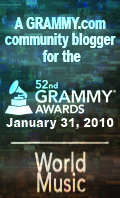 Maybe I'm wrong, but something tells me that the rest of the world doesn't refer to what they do as "world music." That term is a distinctly American one, part of that curiously Western phenomenon of attempting to brand what you cram to understand. Over the several decades that the phrase has been in existence, world music has been defined a number of different ways. Some observe it as traditional folk music from various parts of the globe while others have used the genre as a wide net in which to capture all non-Western musical styles. At best it's a term which recognizes the instrumentation, vocal phrasing, and rich culture of localized musicianship worldwide (even if you're not always sure of what exactly you're listening to or what to call it). At worst it's categorical purgatory, that place where you drop off sounds birthed from an exceptionally talented player from another part of the earth simply because you don't have the time (or the patience) to get to know it on its own terms.

Call me crazy, but I think world music deserves better. Nestled within that middle-aged tag cloud are sonic droplets from an extremely diverse harmonic climate. There are traditional and modern takes on rhythms, melodies and dialects from countless ethnic backgrounds. For those of us who are plugged in and logged on to the Internet and various social networking sites, the idea of the "global village" is our everyday existence. And for those of us who are fans of music, seeking out sounds from another part of the world has never been easier. It would stand to reason that if music is the universal language that we claim it to be, then that which falls underneath the world music umbrella ought not be so foreign to us stateside. Considering the amount of love that American artists receive overseas and knowing that love isn't always reciprocated in support of hometown heroes from distant lands, perhaps examining the 52nd Annual GRAMMY® Awards Nominees for world music will help remedy that.

Within the category of Best Traditional World Music Album (Vocal or Instrumental), the diversity immediately becomes apparent. Mamadou Diabate (a highly revered kora player from Mali, West Africa) has been nominated for Douga Mansa while Liz Carroll and John Doyle bring a kick to Celtic folk music with fiercely engaging performances on Double Play. Conversations in traditional Middle Eastern and Indian instrumentation are explored by Rahim Alhaj and Amjad Ali Khan on their Ancient Sounds album. Rounding out the nominees are two recordings predominantly focused on the drum: the Afro-Cuban influenced La Guerra No from John Santos Y El Folklórico Kindembo and the Taiwanese percussion of the Ten Drum Art Percussion Group's Drum Music Land.

As for the category of Best Contemporary World Music Album (Vocal or Instrumental), there is some serious competition. American banjo player and nine-time GRAMMY Award winner Béla Fleck is in the running with Throw Down Your Heart: Tales From The Acoustic Planet, Vol. 3 - Africa Sessions. Speaking of Africa, Nigeria's own Femi Kuti has been nominated for his Day By Day full-length while the joyous Afro-pop stylings of Amadou and Miriam will be recognized for their album, Welcome To Mali. Cuban pianist Omar Sosa is rightfully within great company due to his mesmerizing release, Across The Divide: A Tale of Rhythm & Ancestry. Last but certainly not least, the alluring vocals of Oumou Sangare (another Malian artist) are the driving force behind her latest album, Seya.

Mali has a strong showing within the world music field across the board and one might think they have it on lock, but the overall talent here is technically amazing and downright awe-inspiring. It is my hope to shine the spotlight on each of these artists in future posts between now and January 31st, 2010 when the 52nd Annual GRAMMY Awards will take place. You can follow the GRAMMYs on Twitter and Facebook and there's even a Twitter link for all the community bloggers as well. After sampling a little bit from each of the world music nominees this year, I am extremely excited to be a part of this project and to learn more about music that I wouldn't know otherwise. As I've been saying recently on my podcast, the more you listen to, the more you'll find.
Music is a worldwide thing: keep diggin'...