GRAMMY World Music Nominee: Amadou & Mariam
Now Playing: dorian concept - seek when is her
Topic: grammys2010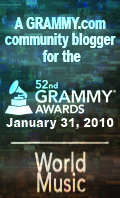 It's about that time we start getting to know each of the world music nominees for the 52nd Annual GRAMMY® Awards. Since Mali has the greatest representation this year within the world music field, let's kick things off with a husband and wife duo that's up for Best Contemporary World Music Album: Amadou & Mariam.

For almost 30 years now, Amadou Bagayoko and Mariam Doumbia have been recording and performing together. Ever since fate allowed them to cross paths at the Institute for Young Blind People in Bamako (Mali's capital city), their journey through life and music has been a magical one. Singing in French, English, and their own West African dialect, their sound is rooted in Malian blues and folk interwoven with rock and reggae motifs. The end result is engaging Afro-pop that has won them critical acclaim from all over the globe. It was their 2003 album Dimanche a Bamako that introduced them to the world outside of Mali and some consider their latest album, the GRAMMY nominated Welcome To Mali, as their finest to date.

To listen to one of their recordings or to see one of their live performances is to witness the strength of their bond as an unbreakable musical scale, Mariam's voice and Amadou's guitar echoing each other's joy and sadness. In addition to being great artists, they have also been appointed as Ambassadors for Culture (Art) to the Zeitz Foundation, an organization dedicated to protecting the Earth's ecosphere through various international and social projects. Tying into this environmental cause, Amadou and Mariam appeared in an all-star cover version of Midnight Oil's "Beds Are Burning" as part of a global climate justice campaign. As if all that weren't enough, they will also perform at the Nobel Peace Prize Concert in Oslo, Norway on December 11 to honor this year's Nobel Peace Prize Laureate, President Barack Obama.

Here's the video for "Masiteladi," one of three singles from their Welcome To Mali album.
Masiteladi

Amadou & Mariam | MySpace Music Videos
Amadou & Mariam online: Official Website ||| MySpace page