GRAMMY World Music Nominee: Mamadou Diabate
Now Playing: the sounds of kora playing dancing in my head...
Topic: grammys2010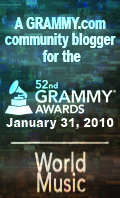 For some people, tradition is something to break away from. For the people of Mali, tradition is essential to the survival of heritage. Nowhere is this more apparent than among the family of griots. To be a griot (or jeli in West African terminology) is not something you learn, but a privilege you are born into. They are the bards of their homeland, the entertainers, the historians. They are the ones who protect and pass down the oral tradition. It is a lineage that reaches back at least seven centuries and with it comes the kora, a harp-like instrument with the sonic familiarity of a Spanish guitar. It is one thing to see someone play a six-string fretless bass with skill. It is quite another to take command of 21 strings with only the index finger and thumb of both hands.

Mamadou Diabate is a member of this grand tradition. As his playing certainly indicates, he was born to be a jeli. Holding fast to the skills passed down by his father, Douga Mansa features Diabate at the top of his craft, a masterful kora player. As wonderful as it is to listen to him perform with his ensemble, his solo recordings are outstanding. Between the speed of his runs and the fluid nature of his technique, it's hard to believe that this is all coming from one person. The song that I keep returning to from the album is "Bi Allah La Ke." Diabate works from a central theme and is free to go where the moment takes him, always keeping the main melody close by no matter far off those lightning fast riffs take him. For further evidence of why the GRAMMY® nod for Best Traditional World Music Album is well deserved, take a look at the grand griot doing what he does best...
bi.allalahke from Mamadou Diabate on Vimeo.