one of the fans...
Now Playing: v/a - beat battle at the rooms of red bull - the afterthought
Topic: grammys2010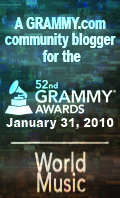 So it's official: I am one of the community bloggers for the 52nd Annual Grammy Awards. In some ways I'm taking it in stride and in others, I'm bouncing off the walls a little bit. What's funny is that I almost talked myself out of it. As the badge above suggests, I'll be covering the World Music category, a field that has two different album categories: traditional and contemporary. I honestly didn't know if I had what it took to go in on this like I thought it should be done and as I was explaining my reasons for why I thought I shouldn't do it, I ended up laying out the perfect reason for why I should. Life's funny like that.
Then again, it was around this time last year that I found myself in a conference room at work during my lunch break, pitching a podcast idea called "grammys on shuffle" over the phone to one of the marketing managers at The Recording Academy. I never saw myself as much of a pitch man until that day. Interesting how the things that you're passionate about can get you into that zone. And if you're anything like me, music gets you in that zone. And seeing as how I love coming across new music or something that I never heard before, blogging for the World Music category offers that ability to get to know something new and different...and be able to see and hear harmonies and melodies through another country's perspective and experiences.
So there's a Grammy nominations concert taking place on Wednesday, December 2nd at 9PM on CBS. That's the jump-off, more or less. The theme this year is "We're All Fans." A number of the bloggers will be on Twitter that night posting tweets live, so you can find us all here. The actual ceremonies commence on Sunday, January 31, 2010. Any and all Grammy happy haps you need to know can be found at grammy.com.
So while I'm involved in a different way than podcasting last year, I'm very happy to be writing on the regular again. This time around should prove to be quite interesting...